Play Golf Calgary Green Fee Card
95542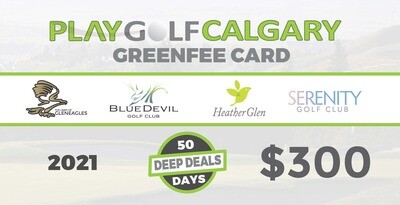 WE HAVE GONE FULLY DIGITAL. WHEN LOADING YOUR CARD IT WILL BE LOADED ON YOUR INDIVIDUAL ACCOUNT ON OUR PLAY GOLF CALGARY APP
Make sure you have the free Play Golf Calgary app downloaded (search "Play Golf Calgary" in the app store) and use the same email as you register your app with. **if gifting card to someone else please include their email in text box provided**
Load a digital Play Golf Calgary Card today with a minimum of $300. You can put as much as you would like on the card. Next, choose what rate and course you would like to pay booking a tee time in Nighthawk, Off Peak, Twilight, or Peak Times. We will simply swipe your card and use your balance for the rate for the time you choose. Repeat. Its that easy! You can use your card ANYTIME, there are no blackouts.
Save 10% Every Time You Play
Save 20% Anytime Monday / Tuesday, After 2:30 Saturday / Sunday
SAVE UP TO 50% on green fees with our 50 DEEP DEALS DAYS PROGRAM (days announced weekly - check the calendar every Saturday for the upcoming week's green fee discount (10-50% off), on what days, and at what courses!)
Advance Booking - 14 Days at GlenEagles, 7 Days at Blue Devil and HeatherGlen
Charge Green fee's and power carts to your card
Look Like a Hero and the group gets your rate *Only 1 Green fee can be charged per visit per day. Unless from the same household*
Have to use balance off card to get the applicable discounts
No Expiry
Fully Transferable
Once your card is empty minimum upload is $300
---
**IF GIFTING FOR SOMEONE ELSE, PLEASE INCLUDE THEIR NAME & THEIR EMAIL ADDRESS IN THE TEXT BOX PROVIDED**

2021 dates will be released on a WEEKLY basis, with discounts up to 50% off (deep deal days). Each Saturday morning we will add days for the following week.
*The card must have a balance on it that is used towards your green fee*
---
Download (click here) the free Play Golf Calgary app to access your digital Play Golf Calgary green fee card! Sign up for the app with the email address that you use at check-out upon purchasing the card online, unless gifting. **If gifting the card to another individual, please include their name AND EMAIL ADDRESS in the text box provided above. Check out your "Offer Locker" tab inside the app for your Play Golf Calgary card.
**PLEASE NOTE: Play Golf Calgary cards take a few days to process, you will not immediately find your card inside of your app. Please allow a few days for your card to appear inside your app. Thank you!
I Agree that there will be 50 days that will be up to 50% OFF (released weekly) (0)
I understand the minimum reload is $300 (0)
I understand that only 1 greenfee can be charged to card per visit ( unless from same household) (0)
I understand that the greenfee card will be fully digital and will need to download the Play golf calgary app to access (0)