Play Golf Calgary Greenfee Card
37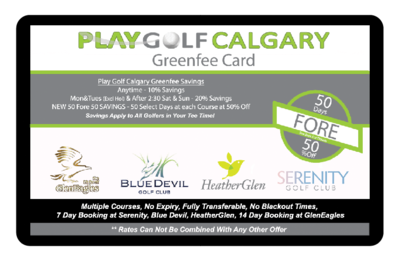 Gift Cards
Load a Play Golf Calgary Card today with a minimum of $300. You can put as much as you would like on the card. Next, choose what rate and course you would like to pay booking a tee time in Nighthawk, Off Peak, Twilight, or Peak Times. We will simply swipe your card and use your balance for the rate for the time you choose. Repeat. Its that easy! You can use your card ANYTIME, there are no blackouts.
Save 10% Everytime You Play
Save 20% Anytime Monday / Tuesday, After 2:30 Saturday / Sunday
Save 50% on 50 FORE 50 Days, www.playgolfcalgary.com/50fore50 for a calendar of days
Advance Booking - 14 Days at GlenEagles, 7 Days at Blue Devil and HeatherGlen
Charge Greenfee's and Powercarts to your card
Look Like a Hero With The Rest of The Tee Time Getting Your Great Rate
No Expiry
Fully Transferable
LOOKING FOR MORE DISCOUNTS AND MORE 50% OFF DAYS. UPGRADE TO PGC PLUS TODAY!
Basic PGC Card (0)
PGC +PLUS Card (0)