Play Golf Calgary Greenfee Card
37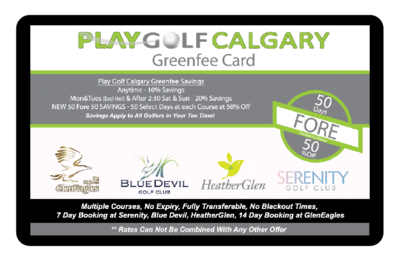 Load a Play Golf Calgary Card today with a minimum of $300. You can put as much as you would like on the card. Next, choose what rate and course you would like to pay booking a tee time in Nighthawk, Off Peak, Twilight, or Peak Times. We will simply swipe your card and use your balance for the rate for the time you choose. Repeat. Its that easy! You can use your card ANYTIME, there are no blackouts.
Save 10% Every Time You Play
Save 20% Anytime Monday / Tuesday, After 2:30 Saturday / Sunday
Save 50% on 50 FORE 50 Days, 50 FORE 50 (www.playgolfcalgary.com/50fore50) days announced weekly - check the calendar every Saturday for the upcoming week's 50 fore 50 days
Advance Booking - 14 Days at GlenEagles, 7 Days at Blue Devil and HeatherGlen
Charge Green fee's and power carts to your card
Look Like a Hero With The Rest of The Tee Time Getting Your Great Rate
No Expiry
Fully Transferable
LOOKING FOR MORE DISCOUNTS AND MORE 50% OFF DAYS. UPGRADE TO PGC PLUS TODAY! THE PLAY GOLF CALGARY PLUS CARD IS NOW SOLD OUT FOR 2020! - But don't worry! The regular Play Golf Calgary Card is still available!
---
2020 dates will be released on a WEEKLY basis. Each Saturday morning we will add days for the following week. We will ensure that we add a minimum of 50 days through the season, with our intention to add many more days to make up for the change in the program. Please check this calendar weekly for the following week's dates (click here for calendar). Thank you for your patience as we work our way through this season.

*The card must have a balance on it that is used towards at least 1 persons green fee in order to receive the daily discount
Basic PGC Card (0)